I , Macro Analysis Of Global Beauty Care Market - 2022
In the past few years, the beauty and personal care industry has been facing challenges, but the market has maintained steady growth. By 2020, the growth rate of beauty personal care market scale will reach 5.25%.
The increase of disposable income brought by GDP growth enables people to enjoy shopping consumption more fully. The retail sales of all industries increased year on year, 4.6% and 5.2% respectively in 2018 and 2019.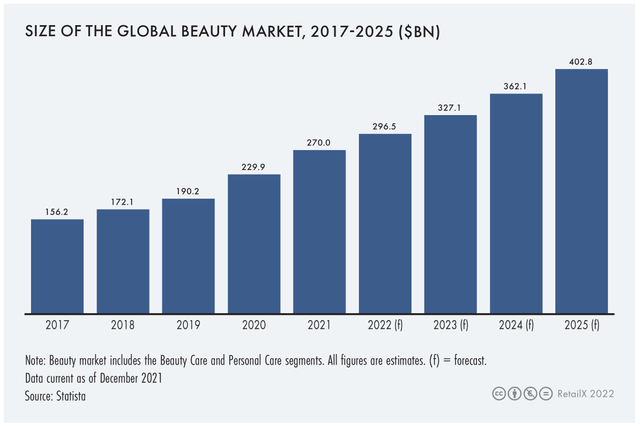 2、Development Ground To A Halt Under The Pandemic
The pandemic has triggered disruptions to global supply chains, followed by a cascade of factory closures, shortages of Labour and container volumes, port congestion and shipment delays.
Merchants will have to deal with higher selling and operating costs, but they can also help reduce some of those costs by adjusting their product mix and shipping times, reducing port congestion and saving money in other areas. But end consumers are still facing higher prices.
Consumption hasn't fully recovered to pre-pandemic levels. Physical retail consumer traffic in the UK, for example, is still below 2019 levels. Overall, average weekly retail foot traffic in March 2022 was down 84% from 2019, according to Springboard data.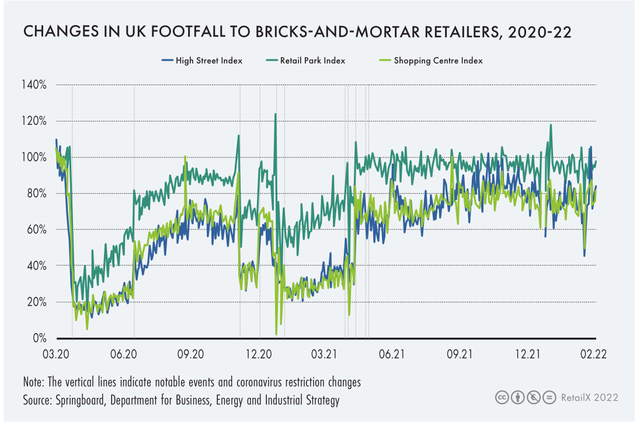 3、Overview Of Online E-Commerce Retail
Online channels have become people's preferred shopping channels, and consumers' shopping methods have changed. Some consumers are moving to online shopping for the first time, while others are increasing how often they shop online and how much they spend. The United Kingdom, Germany, the United States and China are the main consumer markets for beauty care in the world. In 2021, the e-commerce penetration rates of these four national markets were 81%, 77%, 74% and 69%.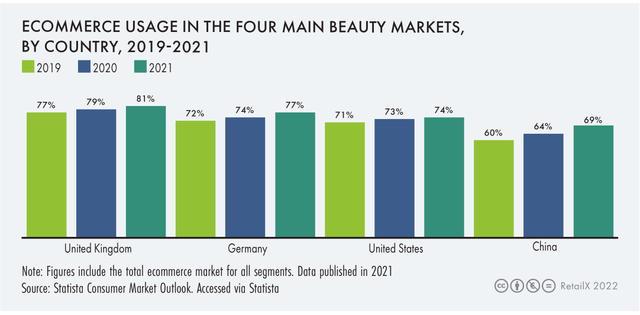 The online sales of beauty and personal care products are growing, and the online sales in 2020 will be higher than that in 2021.
For example, in 2019, the online sales of skin care products accounted for 10.9% of the total sales, which rose to 20.6% in 2020, and further surpassed the physical retail by 22.3% in 2021. In 2019, online cosmetics sales accounted for 9.3% of the total sales, which rose to 19.1% in 2020 and dropped to 18.1% in 2021.
It is expected that the sales of personal care products of beauty cosmetics will recover to a higher level than that before the epidemic in 2022 and beyond.
The online sales of beauty and personal care products are growing, and the online sales in 2020 will be higher than that in 2021.
For example, in 2019, the online sales of skin care products accounted for 10.9% of the total sales, which rose to 20.6% in 2020, and further surpassed the physical retail by 22.3% in 2021. In 2019, online cosmetics sales accounted for 9.3% of the total sales, which rose to 19.1% in 2020 and dropped to 18.1% in 2021.
It is expected that the sales of personal care products of beauty cosmetics will recover to a higher level than that before the epidemic in 2022 and beyond.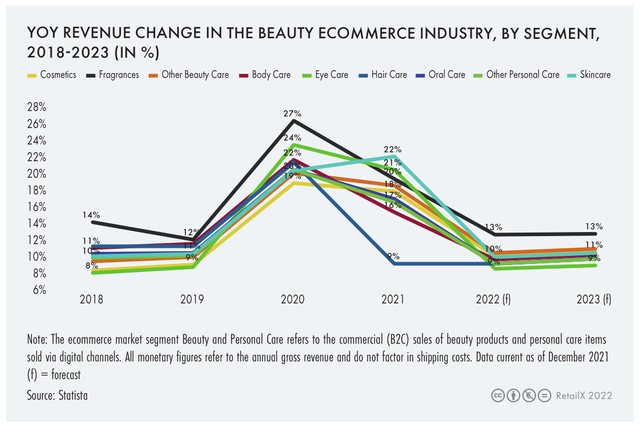 4、Big Difference In Consumer Demand
Global beauty care consumers are more inclined to sustainable and socially responsible brands.
As a result, products labeled "sustainable" or "clean" need to be backed up by scientific evidence, while consumers expect retailers to operate more transparently and companies to treat employees, suppliers, and the social environment as a whole with the same level of respect.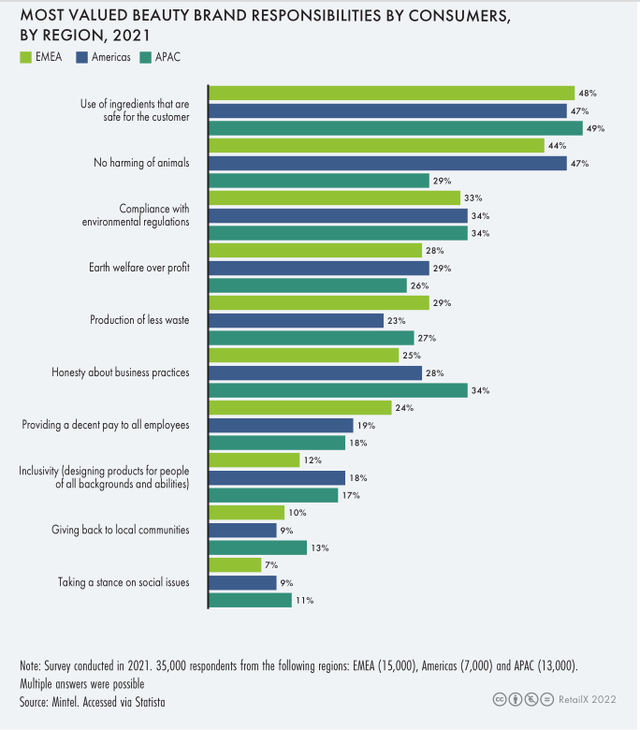 II、 Competitive Landscape Of The Global Beauty Care Market
There are many large listed companies in the beauty care market. At the same time, it's an attractive market for luxury fashion brands, with skincare and cosmetics making up a small portion of their overall revenue and profits.
Analyzing the web traffic of the top 100 companies in the industry provides insight into where they are headquartered and their global presence, as well as the level of digital maturity they have reached and their ability to offer products, services, and overall consumer experiences that match the needs of consumers in different regions.
More than a third of the world's top 100 beauty care brands and retailers are based in the United States, while 22.9 percent are based in France, which is home to many of the biggest names in the luxury sector, including LVMH and L 'Oreal. 14.9% of the leading 100 companies are based in the UK.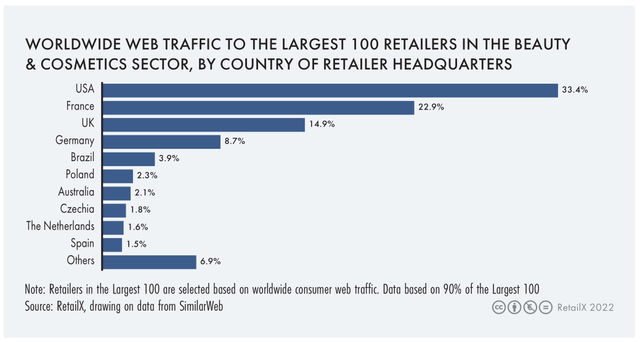 Many consumers, especially those in the skincare category, are loyal to specific brands and tend to repurchase them for the long term.
Consumers in Turkey are the most brand sensitive, with 42% saying that brands are an important part of their decision when buying cosmetics and body care products.
Attracting and retaining new consumers has become even more important for brands. For example, a total of a third of consumers in the US, UK and Germany buy between 11 and 25 beauty products, including mascara, shampoo and hand cream, while nearly 30 per cent own as many as 50 products. In the UK, 21% of consumers have between 50 and 100 different products, and 11% have more than 101 products.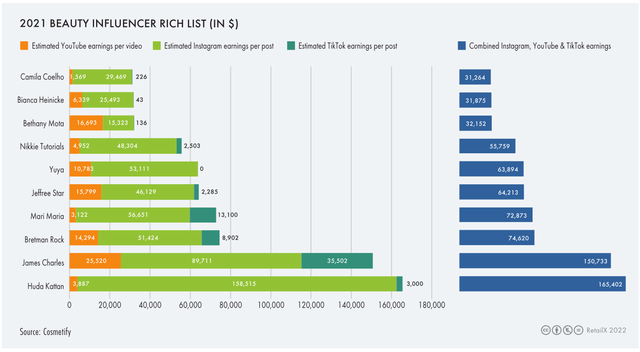 In the past few years, as the global market was still challenged by the epidemic, beauty care brands continued to strengthen their digital channel operation capabilities (channels include official websites and e-commerce platform stores), and e-commerce business helped balance the losses of other businesses.
For brick-and-mortar retailers, the recent focus has been on integrating omnichannel services into their existing businesses. Although e-commerce accounts for a larger market share every year, physical stores are still the main sales channel for beauty and personal care products.
Today, the "buy online, pick it up offline" model is particularly popular. French brand Nocibé offers one-hour pickup for customers who order online, while Sephora's products can be delivered to customers in 500 U.S. cities in as little as an hour through same-day shopping and delivery company Shipt.
Digital integration into physical store services further enhances customer experience. MAC Cosmetics has virtual makeup try-on technology in its stores, while Nocibé consumers can scan a QR code to see more product information.
In the Middle East, Majid Al Futtaim's Mall of the Emirates opened a "Store of the Future" in January 2022 to provide consumers with an immersive, digital and personalized shopping experience, billed as "the region's first fully functional physical digital concept store", Combines digital screens, cutting-edge collaboration tools, virtual mirrors, and augmented reality with wireless infrastructure to deliver consumer behavior insights and analytics.
At the lower end of the market, multichannel retailer Kruidvat has introduced affordable and easy-to-use makeup lines to address issues such as some of its customer base struggling to find and use the right products.
At the same time, the rise of e-commerce and shifting consumer behavior in recent years is good news for online-focused retailers and brands. However, the gap between pure online-only and omni-channel online experiences is disappearing, with leading omni-channel retailers offering online customer experiences that are as good as pure gaming.
Livestreaming has become increasingly popular in e-commerce. 32.7% of U.S. consumers have watched live shopping broadcasts. According to Coresight Research, nearly a quarter of online consumers under 45 have made a purchase during a live broadcast.
Augmented reality virtual makeup trials, rich marketing content, data insights, and expansion through e-commerce platforms. Retail digital technology has undoubtedly opened new doors for beauty care brands and retailers.
Ⅲ、Regional Market Differentiation
1、The United States
The U.S. beauty care market returned to healthy growth in 2021, especially for fragrances and premium lines. Sales of the premium range rose 30 per cent year on year to reach higher than pre-pandemic levels in 2019. The beauty personal care market in the U.S. reached $22.3 billion in sales in 2021, while American consumers spent $20.9 billion on premium products.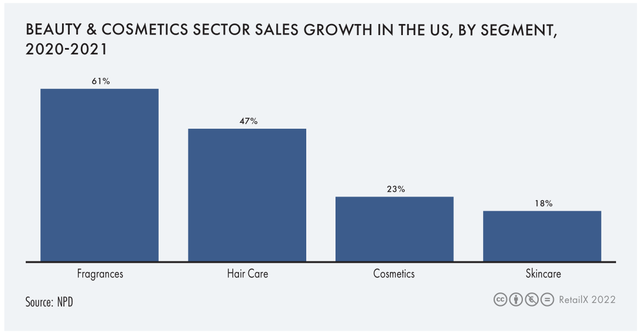 2、Europe
COTY (COTY.US) reported second-quarter sales of $795 million in Europe, the Middle East and Africa, with strong growth in its Prestige and Consumer Beauty business units driving a 13% increase in second-quarter 2022 sales compared with the same period last year. For Coty, which owns beauty brands including Kylie Skin, Marc Jacob, Lancaster, philosophy, CoverGirl and Max Factor, Europe is one of its most important foreign markets outside its home U.S. market. Accounted for half of its total global sales.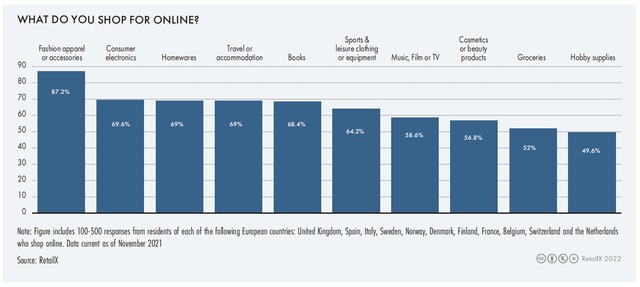 3. The Middle East
Retail in the Middle East is still largely based on bricks-and-mortar stores. Across the Gulf, locals value the experience, especially for the wealthiest consumers, whose shopping malls are a place for family entertainment and leisure facilities. As a result, the local e-commerce market is less mature than in other parts of the world. Only 6% of beauty products are sold online, for example. However, due to the pandemic, more and more consumers are experimenting with online shopping, and it is expected that online sales of beauty products will account for 15-20% in the next two to three years.
In addition, with the popularity of the Internet, social media in the Middle East shows a trend of rapid development. For example, the United Arab Emirates has one of the largest numbers of social media users in the world, with a far larger number of social media accounts than in many developed countries.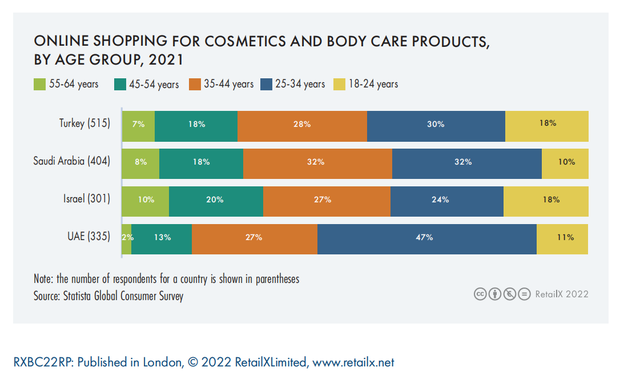 Dubai has become a mecca for beauty bloggers, many of whom have set up their own beauty brands and marketed their products as suitable for women of Middle Eastern descent and marketed them globally. Huda Beauty, founded by popular beauty blogger Huda Kattan, has been sold worldwide and her empire is worth more than £1 billion. With nearly 55 million followers on Instagram, YouTube and TikTok, she earns nearly $160,000 per Instagram post, according to Cosmetify estimates, making her the highest-paid blogger in the beauty industry.
The GCC's e-commerce market has seen triple-digit growth compared with 2019, while physical stores have returned to pre-pandemic levels. Perfume continues to be the fastest-growing category in the Middle East, with local, niche and bespoke fragrances gaining popularity. According to Salem Kaissi, vice president of UAe-based retailer Faces, this is mainly due to the high per capita income in GCC countries. With the average price of perfume reaching $200, many international brands are looking to localize and develop products for Middle Easterners. For now, though, international brands are struggling to steal market share from local perfume brands.
4、China
China is one of the most important consumer markets in the world, and the rise of domestic products has intensified the "inward volume" of the domestic beauty market. E-commerce sales of mid - and high-end beauty products in the beauty category rose 11% in January and February compared with the first quarter of 2021, according to NPD. However, an outbreak in late March brought Shanghai's beauty industry to a halt, with beauty sales down 1% for the month. In the subsequent 618 promotion, it can be seen that the side effects brought by the epidemic are only temporary, and beauty still occupies the C position in the e-commerce market.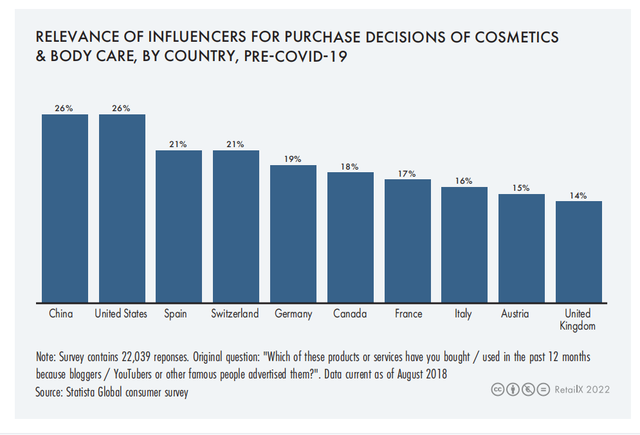 IV、Global Beauty Care Market Trends
The impact of macro economy on different regions in the world is different, and the difference of consumption and preference between regions also creates the diversity of beauty market.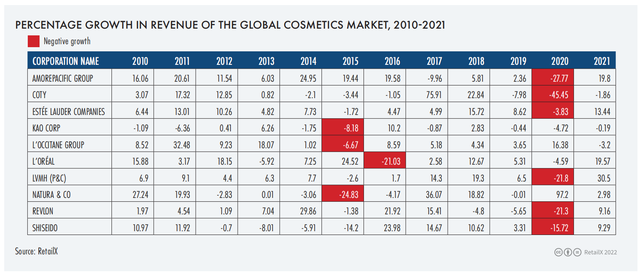 (Increase or decrease in sales revenue of international beauty brands from 2010 to 2021)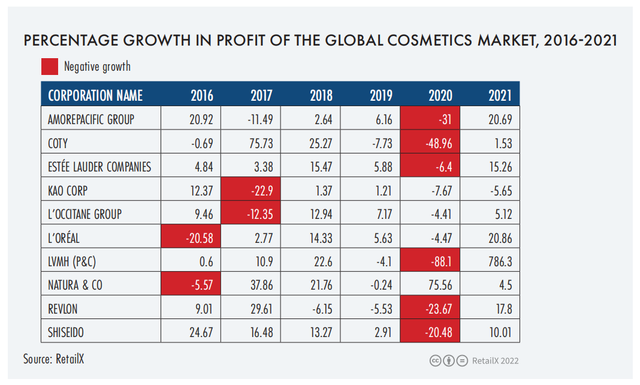 · (Profit growth and decline of international beauty brands from 2016 to 2021)
· In 2020, personal care was the beauty category with the largest proportion of online shopping, accounting for 49.4%; Skincare products accounted for 32.9%, among which facial products accounted for the largest proportion; Cosmetics accounted for 17.6%, and facial cosmetics accounted for the largest proportion. No product type has more than 6 percent of sales in this subcategory.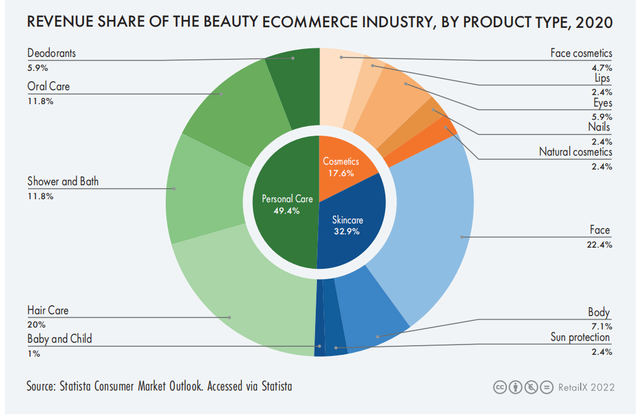 (From left to right, forecasts of growth in sales revenue of perfumery, cosmetics and personal care products by country from 2020 to 2026)
To be continued.....
Data source: RetailX and Statista etc